Japan Health Care College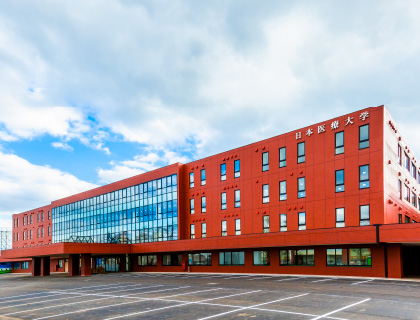 Address: Andersen Welfare Village 434-1 Shinei, Kiyota-ku,
Sapporo, Hokkaido 004-0839
TEL: +81-11-885-7380 FAX:+81-11-885-8288
Established:

April, 1989
Business
Setting administration of a university and the carrier college
Corporation Philosophy
We started Japan Health Care College as the educational environment
that can practically learn the highest medical care, insurance,
and welfare, based on NOTE Social Welfare Corporation.

In "the Andersen welfare village" located in Kiyota-ku, Sapporo named for a writer of children's story of welfare developed country Denmark, there are building of Japan Health Care College Shinei campus, Carrier College Nihon Fukushi Kango/Shinryo Hoshasen Gakuin, and various facilities of elderly people. In addition, there are 3 schools, Japan Health Care college Megumino campus, Carrier College Nihon Fukushi Rehabilitation Gakuin in Eniwa, and Carrier College Nihon Fukushi gakuin in Toyohira-ku, Sapporo. They all focus on high quality of education related with the field of health care.
Aim at the education integral with Long-Term Care
Japan Health Care College was born from field of medical and welfare.

The first step of Japan Health Care College was Special elderly nursing home "Koei no sato" in Tsukisamu Sapporo in 1984. We develop the service as business first in Japan for users of not only Long-term care but Home care to practice the normalization learned in Demark. This is a pioneer of Home health care service in Japan.
We keenly realize how important to develop human resources in the field of medical and welfare so that we established carrier college Nihon Fukushi Gakuin right next to Koei no sato. This is the first step of the Japan Health Care College. In addition, we established compound facilities "Andersen welfare village" which is rare in nationwide. Thus, we create Tsushima Health care and welfare group eminent in our country. We could combine education and practice because this college is a member of our group.