the Employment Support Offices for the Disabled
"Nakama" Shinei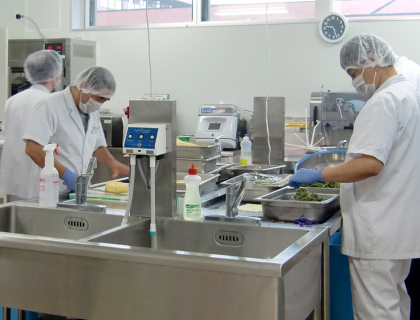 Address: Andersen Welfare Village 434-25 Shinei, Kiyota-ku,
Sapporo, Hokkaido 004-0839
TEL: +81-11-375-7718 FAX:+81-11-375-7633
Established:

April, 2014

Maximum Number of employees (the disabled):

40
Business
Food preparation assistance at Central Kitchen, Waiter or Waitress at grill "Yosei no oka", Cleaning work and food preparation assistance at Japan Health Care College, farm work of Tsushima Farm,Care assistant at the elderly care facilities of NOTE Social Welfare Corporation.
Corporation Philosophy
We provide the opportunity of the working
for people with a disability. In addition, we help acquiring
the knowledge and technique for social independence.
Characteristics
Wouldn't you like to feel of joy to work with us?
The staff supports even if people have a disability to be able to work while feeling joy "to commit" with confidence as an employee lively.
It is the establishment of the atmosphere that coworkers talk each other "we did good job today", "Let's enjoy tomorrow as well".